Machu Picchu Itinerary
Every time my friends come down to visit me here in Peru, we always have to go to Machu Picchu. I've done it so many times now that I believe I've perfected a schedule that not only allows you to see everything you need to see, but also allows for enough "cushion" so you can revert to an emergency plan in case something unexpected happens.
Peru is a marvelous country, but there are occasionally things that happen (like train strikes) that mean you're going to have to figure out a new way to get to Machu Picchu. Simply because the single act of seeing Machu Picchu will make your trip a resounding success, it's good to plan a trip so that even if the stars align against you and you get another round of bad luck with every step, you still can't possibly miss it.
So here it is, your ten days in Peru:
Day 1: A lot of flights get in rather late at night (usually around 10) so you don't have a lot of options here. It's basically either go straight to the hotel and go to sleep, or go to Miraflores or Barranco and go dancing for a while. Most of the bars used to stay open all night, but I think they're changing those regulations and now places are only open until around 2 (a shame really). Still, if you really want to, it's always easy to go out and get yourself into trouble…er…have fun.
Day 2: Your first morning in Lima! Contrary to popular belief, there is a ton of stuff to do in Lima. I'd recommend simply going to Miraflores and checking out all the cafes and ice cream shops on Larco or around Parque Kennedy (I spent a whole day just eating with one friend of mine who came down…it was glorious). Also you might want to check out the Gold museum which is in Larco Mar now. In the evening, make sure you go to Astrid y Gaston, the best restaurant in Lima (and maybe South America), but make your reservations early!
Day 3: Flight to Cusco. You can get your flight so that it leaves at about 11 in the morning and arrives at 12 (you're on vacation…NO 8AM flights!). Get to the Cusco airport and have them take you to your hotel. Rest for a little while, enjoy the plaza de armas, and don't walk fast! The altitude is a bit of a kicker. On your first day in Cusco, you should probably get the Cusco visitor's ticket: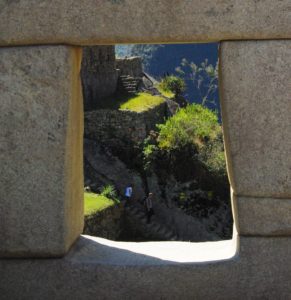 At 70 Soles (about 23$) this ticked is a great deal. With it, you can get into some of the most spectacular ruins in the world (everything but Machu Picchu). They have two options, a 10 day ticket for 70 and a 1 day ticket (with fewer sights included) for 40 or 50. There's no point in getting the cheaper ticket.
On the first day of Cusco, I like to hike up to Sacsayhuaman ("Sexy woman" as it's often called) which is a massive fortress with stonework that is actually better than Machu Picchu. Stay there until dusk, and then walk back down into Cusco (slowly, I can't stress slowly enough) as the lights come on.
Day 4: This is a good day to see Tambo Machay, Puca Pucara, and Quenko (as these three ruins kind of pale after you've seen Machu Picchu). Go to the plaza de Armas (don't forget to bring your Cusco Visitor's ticket) and negotiate a taxi to drive you up to all three. It'll probably cost you around 25 Soles. The driver will take you to Tambo Machay and wait while you look around, then he'll go up the road to Puca Pucara, and wait for you again, and then he'll take you to Quenko. It's probably best to have the driver leave you at Quenko. Quenko is the best of the three, and it's near Sacsayhuaman, so from there it's only about an hour walk back to the Plaza de Armas.
Day 5: This is it! The epic visit to Machu Picchu! Get up early and get to the train, it leaves at 8AM I believe (don't take my word for it, CHECK YOUR TICKET, they're always changing it anyway). It's about a 3 hour ride, so you arrive at Aguas Calientes at about 11. Go straight to the Visitor's center to buy your entry ticket to Machu Picchu, then go and get a bus (they're easy to find, Aguas Calientes is small). The bus is too expensive really, but on your first day you just want to get up there and see the thing, so go ahead and take it (but only buy a 1 way ticket so you can walk back down).
When you get to Machu Picchu, I recommend veering left and heading up towards Intipunku. From up there you get a great view of the ruins, and then you can leisurly stroll down back through them. When you've had your fill of Machu Picchu (probably about 6 hours later), go down the mountain and walk back to Aguas Calientes and get something to eat.
Day 6: Epic day part 2! Get up early and pack a couple sandwhiches, a couple bottles of water, and some snickers bars into your backpack. Now, hike all the way up to Machu Picchu, this will take you about an hour and forty minutes. Now, cross Machu and hike up to Wayna Picchu (it's the mountain in the background of all the Machu Picchu pictures). To hike up to Wayna Picchu, you have to sign in at a little gatehouse which closes at 1 or so. Once you get to the top of Wayna Picchu, there is an alternate trail back down the mountain that goes through the Temple of the moon. Take that. Now, hike back to Machu Picchu, admire as much more as you can, then hike back down to Aguas Calientes. You're going to be really tired after this day, get something massive to eat and go to sleep.
Day 7: Don't do much, sleep, hang around Aguas Calientes, go to the thermal baths, and wait for your train which leaves at 5 in the afternoon. The train takes forever to get to Cusco, you arrive around 9 (the return trip is all uphill). Get something to get and go to bed.
Day 8: Fly out to Puerto Maldonado so you get to see a bit of the Jungle, take some sort of Eco tour. Puerto Maldonado is the only jungle which you can get to easily from Cusco. For all other Jungle destinations, you have to fly back to Lima and then take another flight. Trust me, it's more convenient to just go to Puerto Maldonado when your time is limited.
Day 9: Hang out in the jungle, it's fun. I wish I could tell you more but I never remember anything from my trips to the jungle.
Day 10: Fly to Cusco, then Lima (all flights from Puerto Maldonado go to Cusco, you just sit there on the plane for 30 minutes). Your flight probably leaves at midnight or so, so just hang out in the airport (you'll be getting in at about 1 I'd guess). There is a locker in the airport where you can store your baggage, so get a taxi and go to Plaza San Miguel (it's the closest) where you can catch a movie, get something to eat, or do some last minute shopping.
There you go! Perfection!
Of course you might have to modify this trip slightly depending on the flights you're able to get, but trust me, DON'T try to squeeze in a million more things than what I've suggested here because you'll end up just running around like crazy in pursuit of maintaining some silly adgenda. Traveling around Peru is hard work, and what people always forget when they're making their itineraries is that they get tired, or they have to eat, or other trivial things like that. One good idea might be to leave your day in Lima to the end and get to Cusco as quickly as possible. It is kind of a luxury to have a day to relax after the long trip from the States/Europe/Asia, but it is also possible to just fly into Lima and then go straight to Cusco.
Trust me, it's going to be a blast!