I stayed at the Apu Huascaran Hostal for one night during my last visit to Cusco. Normally I make an effort to take a lot of pictures of every hotel I stay at, but this was the first day in Cusco and I think my thoughts were elsewhere.
The quick verdict is that this hotel was OK. It wasn't great, but it wasn't anything special either. Back in my early days of travel, I never used to pay more than $10 to $15 a night for a hotel in Cusco. These days, it's tough to get one for less than $100 or so. The lower rates can be found, but if you want to be close to the Plaza de Armas you are going to pay a little bit more.
I got the reservation on Hoteles.com and paid US $96. If you are willing to just walk in and ask for a room, I bet you could get one for anywhere between $40 and $70. Also, I got my reservation kind of late, if you get one earlier it's probably cheaper. Peru is a great country to be a backpacker. But I was traveling with my wife and two small children, so I had to get the reservations. Honestly, I didn't have the time or the energy to spend hiking around Cusco looking for a hotel on day 1.
One thing I did appreciate ab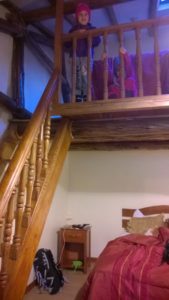 out the room was that it had a loft with two extra beds. There was a queen size bed on the first floor and two individual beds on the second floor. The kids loved it, but the stairway leading to the second floor was super steep and kind of freaked me and my wife out a little bit (we're parents, we're always freaking out about our kids). Again I was just grabbing these photos as an afterthought, so they're not very well thought out:
For one night, this hotel was just fine. Just about every hotel I've been to in Cusco has something unique and fun about it. There is a really good breakfast at Apu Huascaran, although all the hotels in Cusco in the $90+ range give you great breakfasts. The spread consisted of eggs, fruit, bread, delicious coffee, etc. They feature their green/outdoor lounge area prominently in their advertising, but it's not that big.
I'd actually reserved this hotel for two nights, but they were overbooked on the second night so I got upgraded to the Antigua Casona San Blas. In the future, I will reserve Antigua Casona San Blas first. The breakfast was better, as was the room and the general ambiance, all for about the same price (or less if you're clever with your reservations).
Note that the road in front of this hotel (as with many hotels in Cusco) was super narrow but with heavy vehicular traffic. When you stop, the taxis don't have a lot of patience for you as you're getting your bags ou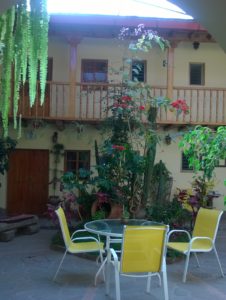 t of the trunk and hauling them in. Honestly, I recommend traveling Cusco with little to no baggage (or as little as possible). The altitude makes it tough enough to get around, so the less you have to carry the better. Also, there's laundry service available in Cusco, so you don't need to bring ten days worth of clothing.
Verdict:
Good but not great hotel. The staff is friendly, the location is good, and the breakfast is just what you expect from Cusco. There are options in Cusco for $96 that are a little bit better than this place, but if you can get in for $50 or so, that's a heck of a deal. Super hot water in the shower and high pressure which was a positive for me and a negative for my wife.
Here's a map. Note that the hotel is on the other side of the street from where it's indicated on the internet. I marked it on this map with a green dot. It's close to Plaza San Blas which is the reference point you give to the taxis.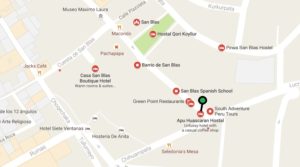 Contact Information:
Apu Huascaran Hostal
Calle Carmen Bajo #257 San Blas, Cusco, PE Telefono: +51974984847
You'll probably get the best rate by calling them directly. Most of the hotels in the Sacred Valley allow you to make a reservation without completing the payment until you actually arrive.