On my last visit to Peru, I decided to do some Machu Picchu GoPro shooting. I brought my Pentax K200 along as always, but I also decided to strap my old GoPro Hero to my chest. We had a pretty neat day. It rained on us a little bit, and since I was more paying attention to my DSLR, I didn't notice the raindrops that tended to collect on my GoPro lens. Every now and then I'd wipe the small camera off, but for the most part I simply turned it on and ignored it for the duration of my day.
Machu Picchu is one of those places where it's tough to take a bad picture. I've got an older generation GoPro Hero, and honestly I've never been all that impressed with it. There's no screen on the back, and two buttons just doesn't seem to be enough for operating a camera. It's got a bit of a fisheye lens effect from time to time, but not so much that it distorts an image at a distance. That being said, you can stumble into some neat images from time to time. Also, when you're shooting for magazines, you can never have enough pictures to choose from. Every now and then you get something accidentally cool. Other times, you can salvage a decent photo from the wreckage of wherever the camera happened to be pointing.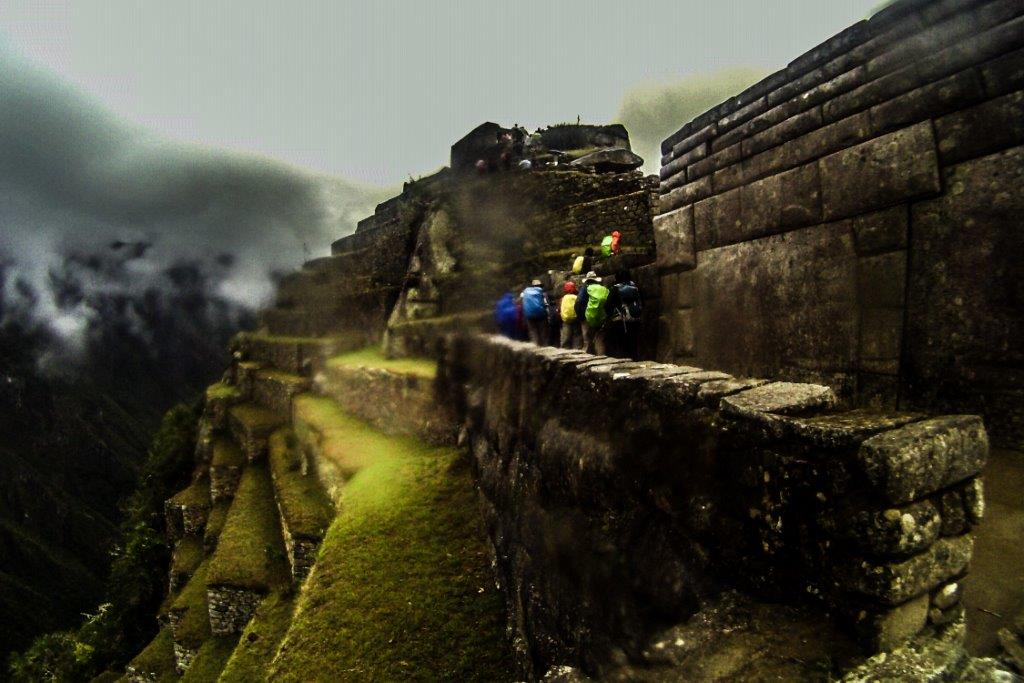 Of course I went through and played around with my raw pics with Adobe Lightroom. Again, I liked the random element you get from the occasional raindrops on the lens. Yeah, I'm sure real photographers will be coughing up their lunch at these photos, but really, when all you have to do is clip the camera to your chest and not think about it until you unpack the memory card six months later…how can you go wrong?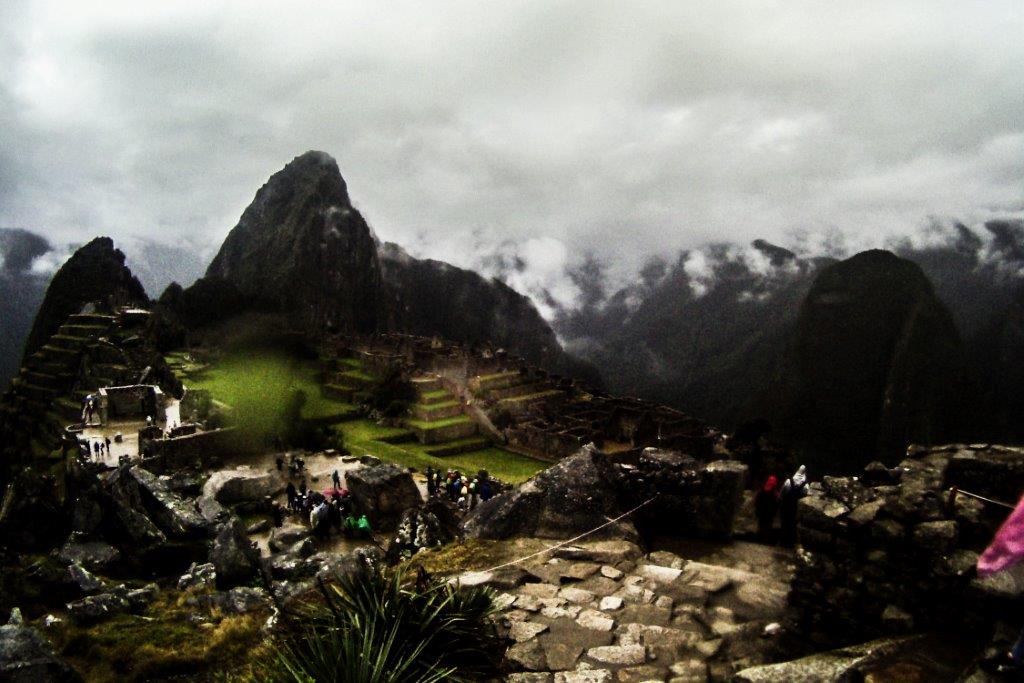 Here's a picture from just past the Urban sector and overlooking the quarry. You can see the principle temple  I always like how tourists scramble for those garbage rain coats (that are literally just garbage bags with a hood). You buy those for pennies on any other day, but when the rains come to Machu Picchu, you can sell them for S/. 5! Yeah!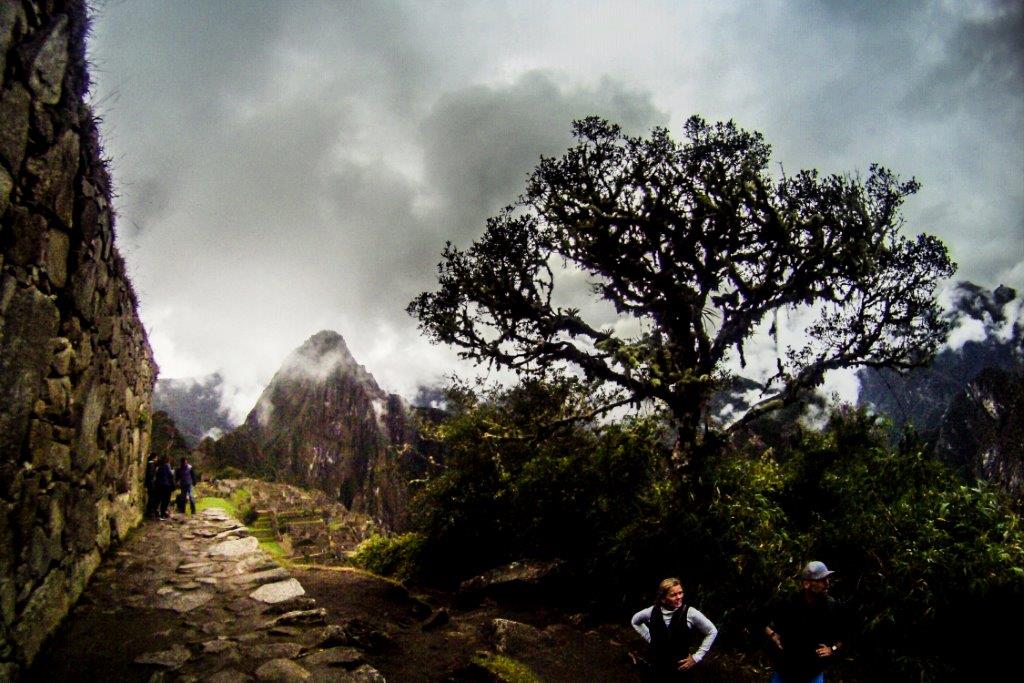 This one is from the other side of the park on the walkway that will take you to the sun gate. That's a must visit site if you ever go to Machu Picchu. There's no additionally fee or ticket necessary (yet), and you get a great view of the whole set of ruins from the top.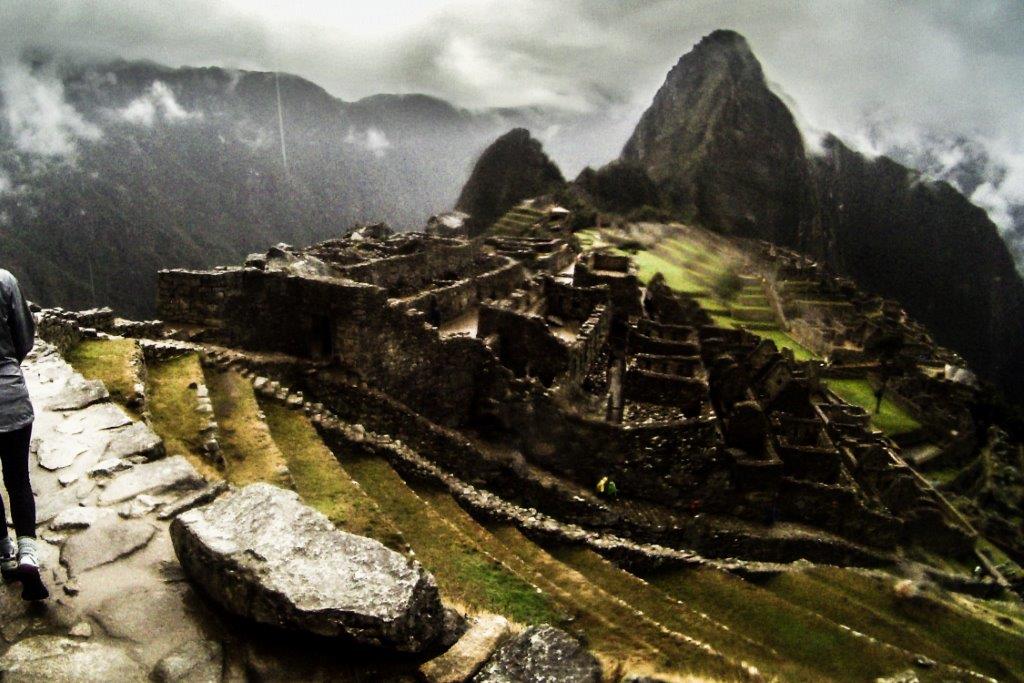 This one looks like a plate pulled from the wreckage of a WWI biplane. All totally random, but heck yea, I'll take it!
Anyway, these are just 5 random photos from my 4,000 photo collection of images my little camera robot took. If you do the same thing, be prepared to have sets of 15 consecutive photos that are ruined by having your arm, or camera strap dangle in front of the lens. But there are almost always corners you can salvage from just about any image. The image quality of a gopro isn't high enough to get you great pics if you start zooming in too much however.
You never know when a happy accident is going to happen, so start that camera up and be prepared to be entertained when you get back home.