My author friend Dan Woll and I are trying our hand at a new publishing opportunity: Amazon's Kindle Scout. About two years ago, Dan came to me with a novel he'd written that he couldn't quite make work. The deal was that I'd get a year to work on the manuscript, and then we'd shop around the final product. It took me about 15 months rather than a year to polish off the book, but we've come up with what I call a paranormal/historical/romance/suspense/thriller. For those of you interested in government conspiracies that are actually based in fact, you'll find plenty to enjoy in 'Paperclip.'
I'd heard of Amazon's "Kindle Scout" publishing program several years ago and I'm excited about the opportunity to submit a work to their publishing machine. However, going this route requires the assistance of our friends and readers. Amazon is increasingly becoming the hub on which the literary world spins. Kindle Scout isn't a self-publishing option. You submit a work and then the work is reviewed and "nominated" by readers for a 30 day period. If the book is selected at the end of this period, the authors receive an advance and Amazon promotes the novel.
You can nominate the book for free, and my understanding is that if the book is eventually selected for publication, you will be given the opportunity to download a free review copy. The nomination process is simple, all you need to do is log in to your Amazon account, and then click here. The link will take you to the book's kindle scout page and the screen will look like this: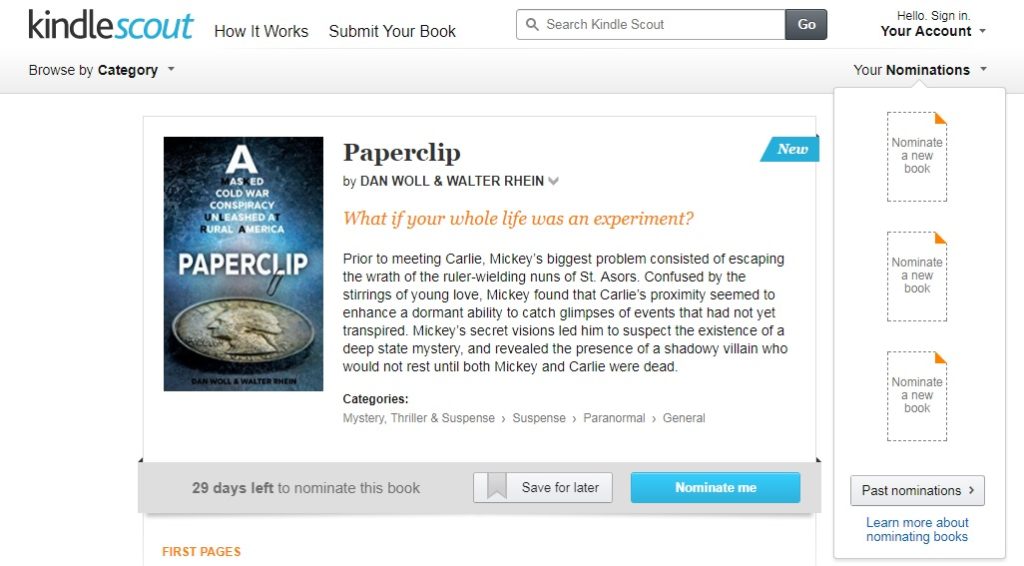 Then all you have to do is click on the blue "Nominate Me" box down at the bottom. At that point you'll be taken to another page where you can rate items like: the cover, the tagline, the excerpt, etc.
Nominations help but at the end of the campaign the book is evaluated by readers at Amazon. Still, at this point, the more nominations the better.
Dan and I have had a really fun time researching and working on this novel over the past 15 months, and we're excited to get 'Paperclip' into the public eye. I thought it was kind of a lighthearted thriller, but my friend Cas Peace had a look at it and she called the novel, "dark and unrelenting". For those of my friends who are also writers, don't hesitate to contact me with questions about the Kindle Scout program. It's going to be fun to see how this works out. Publishing is always a combination of being in the right place at the right time, so why not give an opportunity like this a shot?
How You Can Help
Again, it's completely FREE to nominate the book, and if it's selected I believe you receive a review copy (so that's a win-win). At this point, you can be a huge help with just a couple quick clicks of your mouse:
First of all, share this post. There are buttons down on the bottom for Facebook, Google plus, linkedin, etc. Please share this post to any and all social media platforms you're active on.
Be sure to nominate the book with your amazon account here.
Finally, if you have a book also being considered for a kindle scout contract, please leave a link in the comments below. I'm curious to see more about these books.
Be sure to leave any further questions or comments below, I'll happily respond.
Thanks everyone!
I'll be revisiting this campaign over the next few weeks with updates and news. It always comes down to somebody making a decision, but a lot of nominations will hopefully influence the final result. Thanks for your nomination!