I recently returned from a week long trip to the Sacred valley, so I thought I'd do a couple quick reviews of the hotels we stayed at. When traveling in the Sacred Valley you can spend anything from $10 to $500 a night, and paying more isn't always a guarantee of better quality (although most of the time you do get what you pay for).
One of the memorable hotels I stayed at was
Hostal Pacha Kusi
in Ollantaytambo. First of all don't be put off by the fact that this is a "Hostal" rather than "Hotel." I've had people become concerned that the word hostal indicates they'd be given a bunk bed in a shared room. That's not the case. Hostals just like Hotels in Peru do have private rooms available.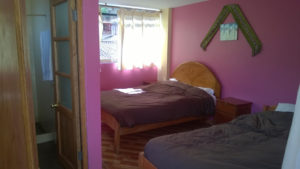 This was our room. Nice and simple with hot water but no TV. This is fine for if you're planning on spending the day scrambling around the ruins of Ollantaytambo. There was also breakfast in the morning which consisted of eggs, bread, butter, jam, coffee and juice. The breakfasts you get in the morning in Sacred Valley hotels are far superior to anything you'll ever get in the US.
The big advantage of Pacha Kusi was the small patio that can be seen in the top picture. You climb up a set of stairs to a patio which affords a spectacular view of Ollantaytambo. Also, the open sky at night is pretty great. This is a good place to go with a couple friends and enjoy a few beers or a bottle of wine. Super casual and fun.
Getting up there, though is a bit tricky as the stairway is kind of difficult.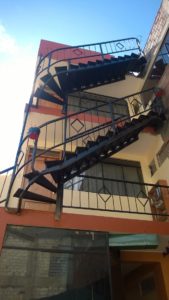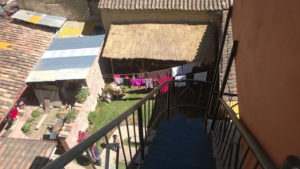 There is a little bit of a green patio as well and a casual couch good for lounging around on.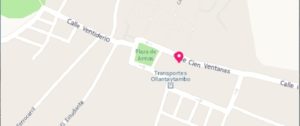 We paid $43 for one night with a reservation, but I think if you just wandered in off the street you could get a much less expensive room. I was traveling with two small children so I needed to make reservations. There are also several rooms that are much less expensive because they have a shared bathroom.
Honestly, this is a great little backpacker hotel. The patio puts it over the top, but the rooms were comfortable and clean and the breakfast was great. Totally worth the cost.
The owner is a young man named Eddie who rents the building that houses the hotel. Apparently Pacha Kusi hostal has existed at another location. Eddie ownes the hotel name and the web page listings but not the actual grounds, so there is the potential for the hotel to migrate. Just a different way of doing business. Eddie said he'd only been open in this location for 3 weeks and we were his first online reservation, kind of cool.
I'd go to this hotel again, we had a really nice stay there. If I were a backpacker without responsibilities, I might stay there a month.