A Tremendous Hotel In the Sacred Valley
The Pisaq inn is a great little hotel at the base of some of the most spectacular ruins in the Sacred Valley. Pisaq is a must see city on your Sacred valley tour. It's a quiet little mountain city away from the hustle and bustle of Cusco. Pisaq also boasts the best market of the Sacred Valley. However, there aren't a lot of options for lodging, so getting your reservation for the Pisaq inn early is vital to organizing your Peruvian tour.
The Pisaq inn is a one stop shop. The restaurant is great offering an economical but gourmet menu perfect for all tastes. They also have a wonderful breakfast in the morning. Throughout Peru, vegetarian plates are universally available, usually featuring quinoa as a nutritive element.
The rooms are cozy and clean. There is hot water and electricity, plus a commons room television, but you will probably be too busy to watch TV during your trip. The Pisaq inn also has a couple nice quiet reading areas. There is also a mini-library available at the hotel so there's no need to carry your own books on your tour.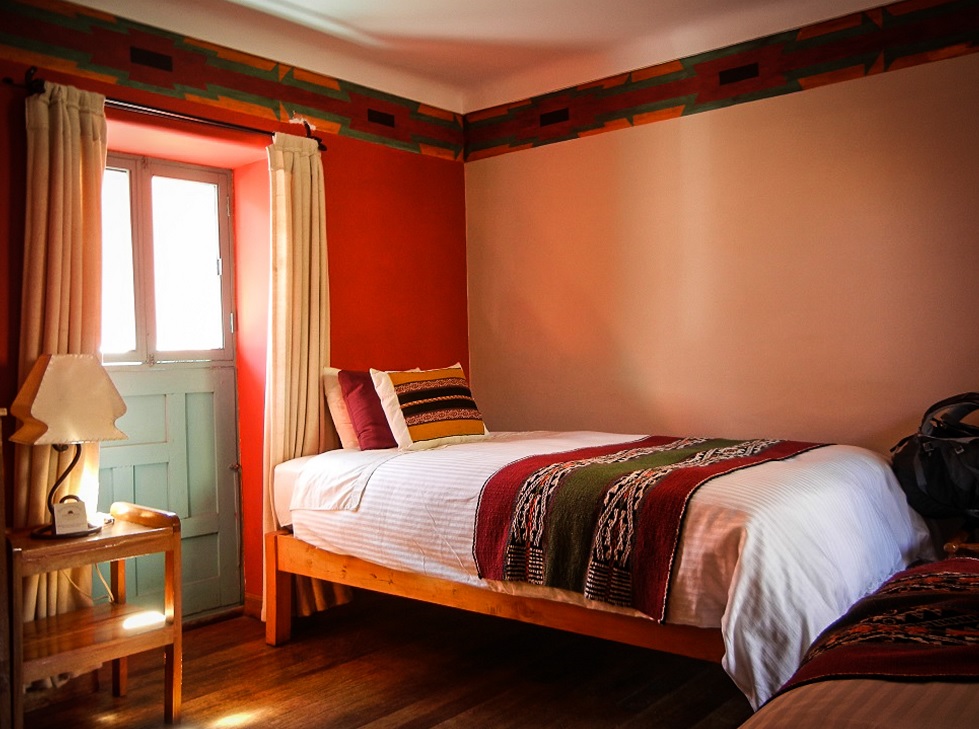 The Pisaq ruins are right out the door from the hotel. I usually recommend hiking them from the bottom up (instead of top down) as most of the tourists do. Doing the hike backwards makes it an intense workout, and usually takes about 2.5 hours to ascend, and perhaps 1.5 to descend.
I usually incorporate the Pisaq Inn after a day in Cusco. You get up early, check in at the hotel, have a quick lunch, hike the ruins, then return to relax in the hotel or check out the market.  It's a fully day, and you'll be ready to crash in those comfortable beds. You can usually get a room here for under $100. Dinners will be around $20 per person. It is a very affordable and very comfortable Inn. I've stayed there on three separate occasions and I've never had a problem.
Address:
Plaza Constitución 333, Pisac, Peru