As soon as you have set your date to visit the sacred valley, it's very important to reserve your Machu Picchu tickets. The Peruvian government limits the number of entrants to Machu Picchu to 2,500 daily. Although it is possible to buy an entrance ticket within a few days of your scheduled visit, dates, particularly weekends, are prone to selling out. Tickets are even more limited to the Wayna Picchu and Machu Picchu Mountain climbs, so to see everything you wish to see, it's best to plan ahead.
Keep in mind that if you're booking a professional tour, the agency will probably book your tickets as part of their package price. However if you're traveling by yourself, it's fairly easy to get tickets.
You can go and purchase tickets to Machu Picchu a the DRC (Direccion Regional de Cultura) office in Cusco. The address is Casa Garcilaso – Calle Garcilaso s/n Cusco – Perú, but it becomes a little confusing when you try to type it in to Google Maps. Here's a map of the office's location in relation to the Plaza de Armas.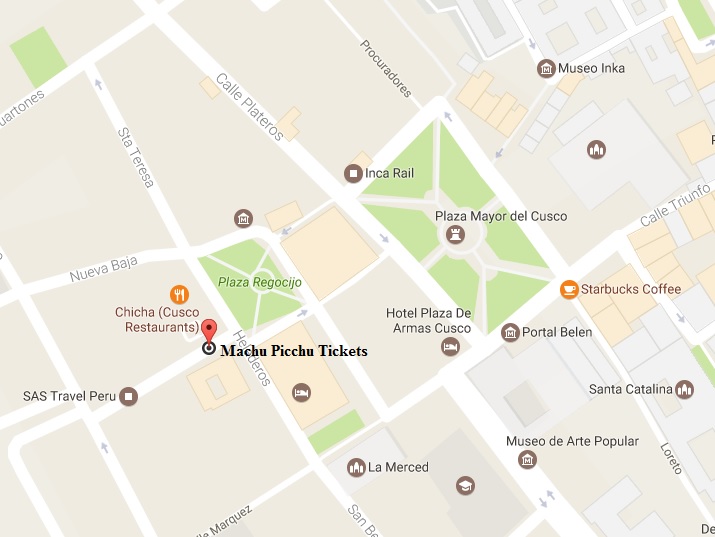 And here is what it looks like out front. Notice that it's pretty nondescript, there is only a little sign on the wall that says 'Boletos a Machupicchu."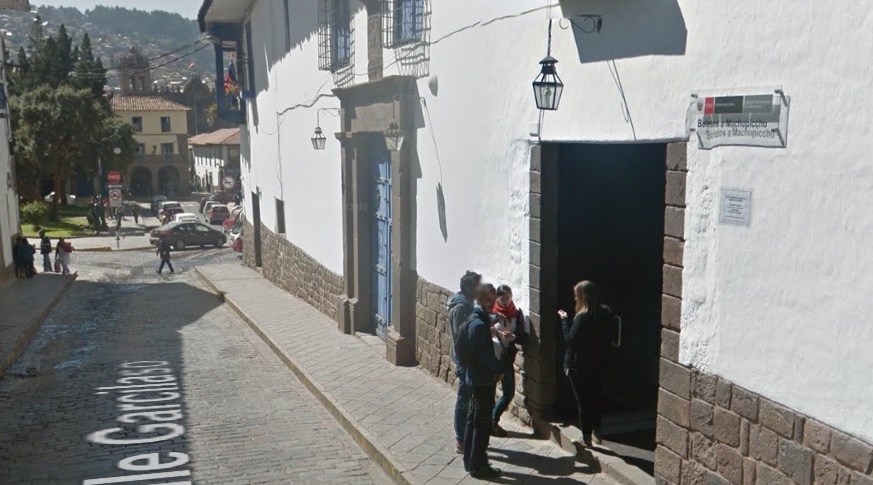 They're actually pretty good to work with at the office. The last time I was there, there were just a bunch of people sitting behind desks with laptops connected to printers. They'd make your reservation and print out your tickets and you were ready to go. We did have an issue where the day we wanted to go was sold out (we had some friends join us at the last minute), but the officials at the DRC sold us a ticket for the next day and gave us an exemption so we could enter on our scheduled day. So there is a bit of flexibility, but this kind of maneuver is not something you want to rely on.
Although I have had positive experiences going to the office at Cusco, you're better off organizing this from the comfort of your own home. After all, this trip to the DRC office is going to take you a minimum of 45 minutes to an hour, and could be several hours if there are a lot of people. Wouldn't you rather spend that time relaxing in comfort at a cafe while tossing back Pisco Sours and eating world class food?  Get your tickets in advance.
How to Get your Machu Picchu Tickets Online:
Here is the official government web page for issuing Machu Picchu tickets. It takes a minute to load up, so be patient. The page is offered in Spanish, English, Portuguese and Italian. Before you begin, you might want to inform your bank that you are going to run a charge in Peru. This is a long process and you don't want to get to the end and have your registration cancelled because your bank refuses to accept the charge. This is especially relevant if you are making your reservations while you are already abroad. If you are doing these reservations at home, there is a good chance it will go through, but different credit cards vary. Yes, I have gone through the whole process only to have my bank's "fraud alert" department prevent me from finalizing the reservation–it's frustrating.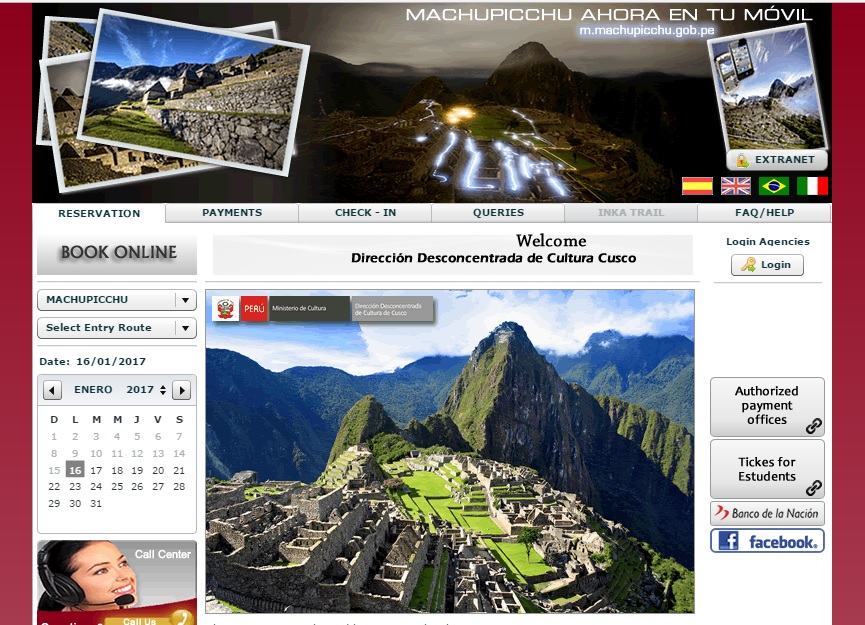 Select the language you prefer from the flags on the upper right hand corner. After that select "Machupicchu" from the first drop down. The second drop down menu is as follows: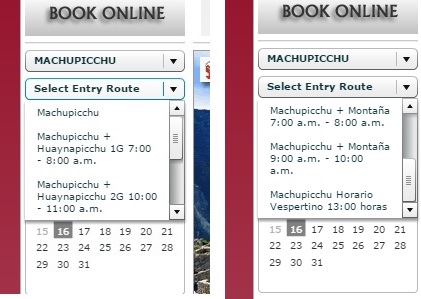 There are 6 options. Machupicchu is an entrance to the basic ruins. There are two options for climing Huaynapicchu or Wayna Picchu, one where you leave between 7 and 8 am and one where you leave between 10 and 11 am. The same options are offered for doing Machupicchu + Montana (Machu Picchu Mountain). Lastly is the Machupicchu Vespertino option which is an afternoon pass that costs S/. 100 instead of the typical S/. 152 fee.
The Huaynapicchu ticket is the most difficult to obtain as the supplies are limited to 200 people per day. It's always worth looking to see if tickets are available, but you should be planning at least four or five months in advance to guarantee reserving this ticket.
Machupicchu + Montana is also limited to 400 people per day, but you can generally get these within a few weeks leading up to your trip.
Both of those "+" tickets are very strenuous climbs. The Mountain climb is longer, but not quite as steep as the Huaynapicchu climb. I highly recommend all of them.
Once you have picked the route you wish to follow, click on the date and you will be taken to the following screen: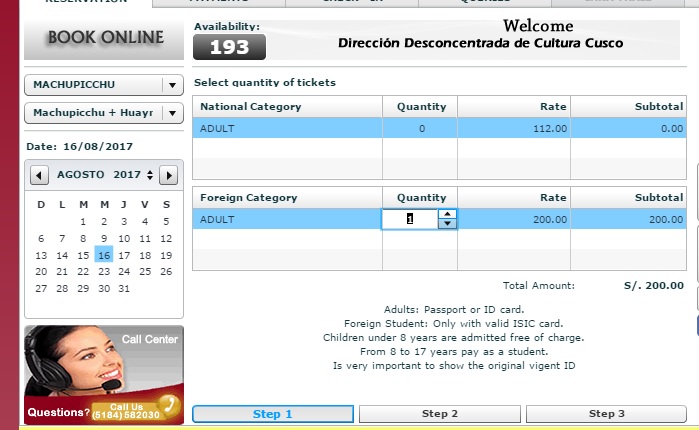 Click on the "Quantity" option in the "National" (if you are Peruvian) or "Foreign" section of the menu to select the number of tickets you wish to purchase, then click at the bottom where it says "Step 2."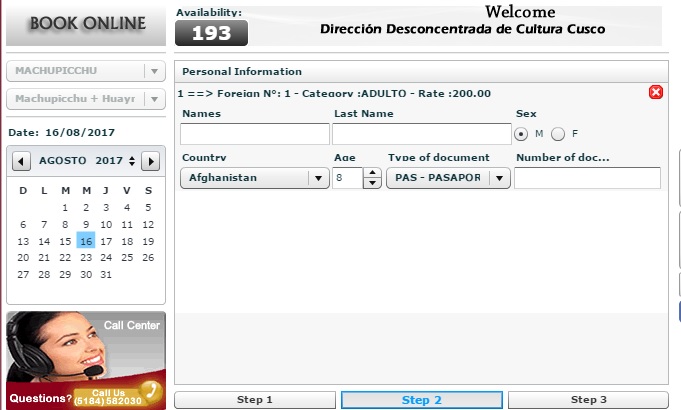 It's very important to provide the EXACT information that appears on your passport. Remember that you need to produce BOTH your Machu Picchu Ticket and your Passport to enter Machu Picchu. They check this very carefully.
Children under 8 do not have to pay, but you still need to bring their passports to verify identity.
Once you have filled all that in and hit "Step 3" you will be given a registration number. However you DO NOT yet have a confirmed registration! You have 3 hours to use the registration number (circled below) to make a payment or the registration will be cancelled. This notice is in yellow on this document. I believe they have reduced the grace period for making a payment since the last time I purchased a ticket, so be ready to pay as soon as you have made the reservation.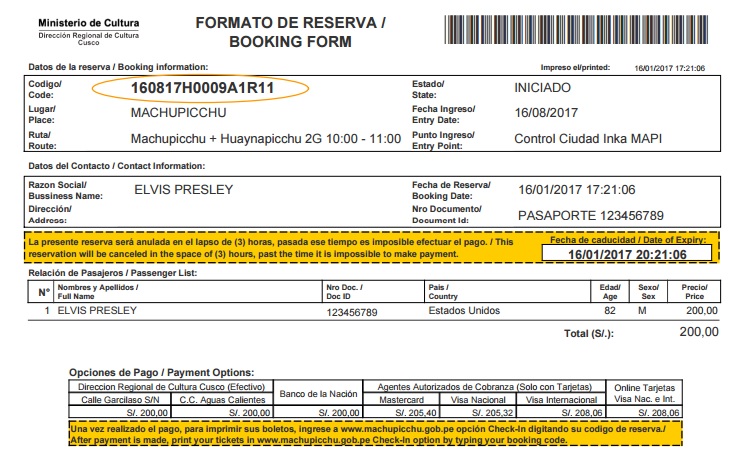 To make a payment, click on the payments tap and enter your reservation code.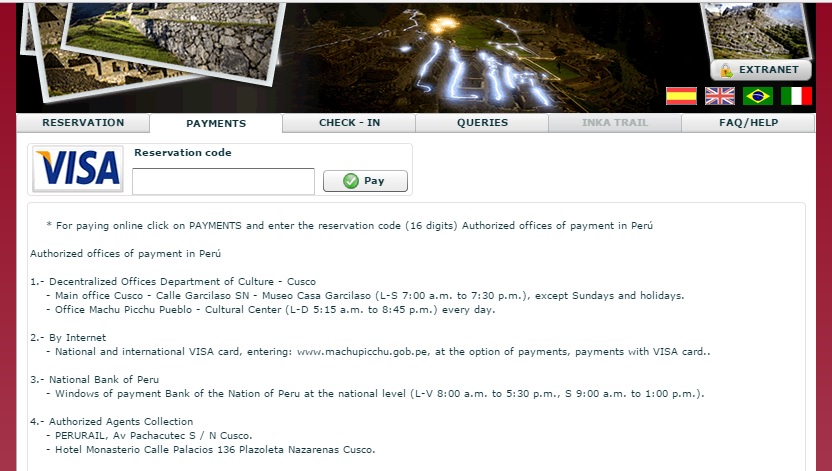 Once you have made the payment click on the "Check-in" tab and paste in your reservation number. This will bring you to a .pdf of your tickets. Download this .pdf and then email it to yourself so you're sure you can always find a copy of it. Your final ticket will be similar to what I've posted below but with your identification numbers added in as well as an entrance date.
You need only print out the ticket and bring it with you to the entry gate on the date listed on the ticket along with your passport. Remember that if you're climbing +Montana or +Huaynapicchu you have to show up at the respective gates during the time listed at the top middle of the ticket. This is especially important with the Huaynapicchu climb: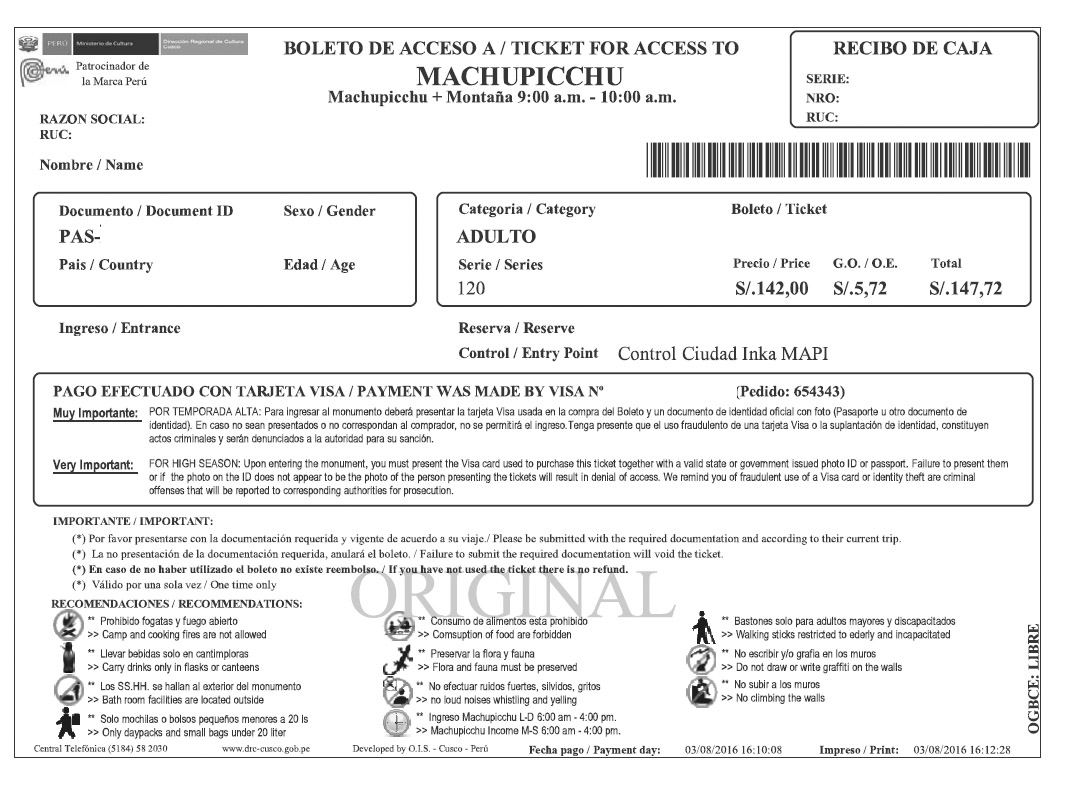 Congratulations! Once you have printed out your ticket you're ready to go! It really does go pretty fast, and trust me when I tell you it's a lot better to get this settled at home than to wait around at the DRC office in Cusco hoping that they will have a spot for you on the day your itinerary calls for you to visit Machu Picchu. Don't hesitate to write with any questions!