The Antigua Casona San Blas is an absolutely fantastic hotel in Cusco. Whether you're traveling with a family, or you're looking to make a romantic getaway with somebody you're trying to impress, this is a tremendous choice.
I stayed there in July of 2016 with my family and it was totally by accident. We'd reserved a room at the Apu Huascaran Hotel only to find out after loading our stuff into the hotel that they were overbooked. A jolt of fear went through me because my kids are 6 and 4 and I was concerned about wandering around Cusco with them plus all our gear looking desperately for a place to stay.
Fortunately, I'd pre-paid and to their credit, the folks at Apu Huascaran Hotel took care of us. They arranged a room for us next door at the Antigua Casona San Blas and mentioned that it was an "upgrade."
Boy, was it ever!
This was our last night in Cusco so we were all exhausted. We'd booked a room with three beds, and were overwhelmed by what we got. Our room opened to the main floor, and there was a stairway in the corner that led to a little cubby room for my kids. They were delighted.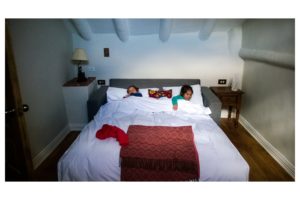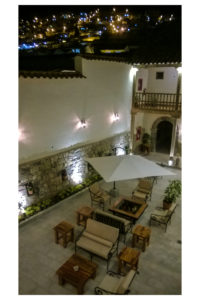 The main bed was absolutely huge and the room was very elegantly decorated. Our room overlooked a beautiful patio. It would have been fun to go to this place when we weren't exhausted from the trip so that we could enjoy it a little more, but as it was, the amenities were absolutely perfect.
Because this was an upgrade from Apu Huascaran, we paid only $96 to stay. On their web page a triple room is listed at $149, but prices in the $80 range seem to be available on sites like Hoteles.com.
I don't mind paying extra for quality, and you certainly get it here. The location is great because it's close to Plaza San Blas (a good reference for your taxis), and the Plaza de Armas is an easy downhill walk.
The morning breakfast was absolutely tremendous: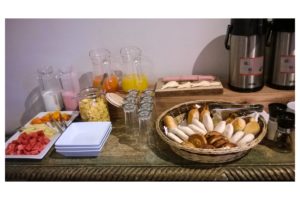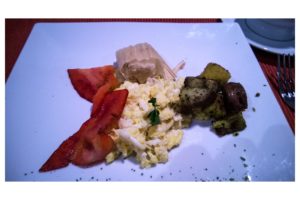 In addition to the fruit, bread, juice and coffee that was laid out, a waiter made you a plate of eggs, bacon and potatoes to order. It was all delicious.
Like most hotels in Cusco, Antigua Casona San Blas is only about fifteen minutes away from the airport. You can ask for them to arrange a taxi at the desk and they have one waiting for you when you're ready to go. However, be advised that you better be punctual, because the road out front of this hotel is unbelievably narrow, and there is always a lot of traffic. A taxi blocking the road is not a very popular individual (this is one of the quirky things about Cusco you have to accept and deal with).
I've always been a big fan of the Tupac Amaru but I think Antigua Casona San Blas might have supplanted Amaru as my favorite. I would stay there again without hesitation and be grateful for the privilege. Whether you're looking for a romantic getaway, or a good time with the family, Antigua Casona San Blas is an ideal choice.
Antigua Casona San Blas
Calle Carmen Bajo 243, San Blas
Cusco, Peru
USA Toll Free – 1 800 495 3614
Peru +51 84 200 700
reservas@antiguacusco.com