I just returned from a week long trip to the sacred valley. I was taking a little bit of a risk because I was bringing along my 5 and 3 year old daughters and I didn't know how they were going to hold up to the altitude and the physical demands of the trip. It turns out the kids did absolutely great, but there was one night that just about sunk the ship early on.
Our second day, I planned on going from Cusco to Ollantaytambo with a quick stop in Moray. I knew we weren't going to have much energy left over, so I figured it would be best to stay close to the train station in Ollantaytambo. I went online and I found the following map that indicated a hotel right next to the train station for the next day.

I saw this online and thought, "Perfect, we'll stay right next to the train station, get in late and maybe eat at El Albergue."
We pulled in to Ollantaytambo tired and hungry after a long day in the Sacred Valley. The kids were about an hour past nap time, which is the extreme danger zone, but they hadn't started to feel really miserable yet. I was ready to get a room, get some food, and go to sleep.
I walked into Hotel Wayras and handed the lady my reservation papers, but she started acting weird right from the start. I didn't have time to deal with her though, and I went back out for the other bags. When I returned, the woman was flapping the paper around going, "you're not in the right place!"
I pointed to the sign on the door that said Wayras.
"This is Hotel Wayras, you need Wayras Plaza!"
"But on the reservation it says the hotel is on Calle Ferrocarril…which is where we are."
I started to get nervous. If I'd been traveling by myself all of this would have been fine, but I didn't want to put my kids through waiting around for hours while people couldn't figure out the reservation. That was why I spent more and got reservations after all.
"Nope, it's another hotel." The woman said, dialing up the phone. She reached the other place. "I have your reservation here, there coming up to you."
"Well, where is it?"
She gave me some sloppy directions and we loaded back up into our truck to find the place.
Arriving at Wayras Plaza, the guy was kind of weird. He asked to see my reservation papers as if he was concerned about the address being wrong, but he didn't really look at them. Then he said something about how it was "bad" that the listing was wrong. Something about it seemed suspicious. I began to think that they'd intentionally listed Wayras Plaza at Ferrocarril to get more reservations. Then when the hotel near the train station got full, they started shipping people up to the Plaza.
I was so angry I didn't take a picture of the room, but here's the view from the room.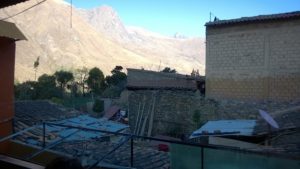 There were three beds. The guy asked us to inform him if we wanted hot water so he could heat up the tank.
This was a $40 room, which is a lot for Ollantaytambo. I think maybe if you'd just walked in from the street you could have got it for S/. 60 or so. That's the way things are in the Sacred Valley, but again, I was traveling with kids so I needed the reservation.
I will say that the beds were fine, and we didn't have any problems at night. The breakfast was included and consisted of coffee, juice, bread and eggs. I just didn't appreciate the run-around from the other hotel.
When I went to check out, the girl tried to charge me $80, but I corrected her. The manager wandered in to deal with me. When I paid I asked the guy for a receipt.
"We don't have any," he said, "there all over at the other hotel."
"Oh, you mean the one by the train station?"
"Yes," he said smiling. I must have kind of scowled.
"Well, write a receipt on a piece of paper then with your name, DNI and signature."
He did so and I showed it to my wife, who laughed.
We walked down to the train station which was fine and everything worked out, but it doesn't take much of a hiccup to cause major complications when you're traveling with kids. Be warned, if you're looking for a hotel right next to the train station, you don't want Wayras Plaza, you want Hotel Wayras (or maybe it's Hostal Wayras). Don't think that just because the address on your reservation is right next to the train station that you've made your reservation in the right place.
If I'd known I'd have to stay by the plaza, I would have picked
Hostal Pacha Kusi
, I liked that one a lot more.